Welcome to Pohakuloa Training Area (PTA)
REMINDER TO ALL HUNTERS: All parking area gates must remain closed when not in use.

Open gates should be reported to the PTA CLEO per the hunting policy.

​
**Effective 5/7/2021 the CLEO phone number has changed to (808)351-2368 Please update the number on your phone**
2021/2022 PTA Hunting Permit Information
The 2021/2022 season begins 1 July 2021. We expect to open permit sales in mid-August. Please monitor your email and iSportsman for updates.
Please note there are two important changes to the PTA Hunting Policy:
1. All hunters now must print out a copy of their permit and place it on the dashboard of their vehicle while on the installation.
2. All hunters must now aquire reservations through the Lottery System. See "User Lottery Guide" above to acquire a permit to enter the reservation lottery. See policy link under the "Regulations" tab above for more details on the lottery system.
TO DETERMINE YOUR BACKGROUND CHECK STATUS: logon to iSportsman and go to MY ACCOUNT -> ACCOUNT DETAILS -> VALIDATIONS.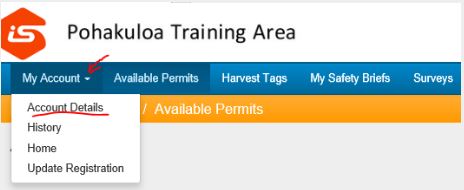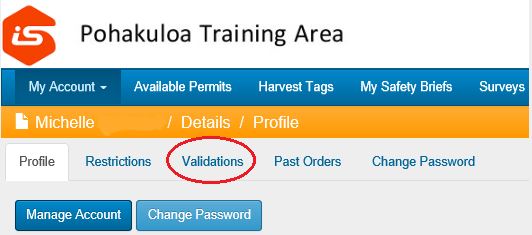 Permits are now available to those who have aquired all of the necessary validations.
In order to purchase a 2020/2021 archery hunting permit, you need a current safety validation and background check validation. Background checks are automatically ran on all new accounts. Inactive Accounts: If you registered prior to 2019 and did not have permit in 2019/2020, you will need to text or call the Conservation Law Enforcement Officer at 808-351-2368 to request a background check.
For more information about permits and validations, see the permit information under the "Permits and Fees" tab.
Reminder: Firearms registration is REQUIRED for all hunters who intend to participate in any upland game bird or spring turkey hunts. Use the form on the Registration page, and fax or mail it with a copy of your County registration for each shotgun you intend to use on PTA. Get your paperwork in early to avoid any delay on your approval process.
---
PTA Background
Pohakuloa Training Area (PTA) was first used during World War II as a Marine Corps artillery live-fire training area. U.S. Marines from the 2nd Marine Division and the 5th Marine Division trained at PTA and on the western side of the Big Island in preparation for the Iwo Jima and Saipan campaigns.
During World War II, few permanent structures existed; when the Marines trained at PTA, they slept in tents. After the war, PTA fell under the control of the Hawaii Territorial Guard, and in the mid-1950s, the Army took over PTA. Marines from US Marine Corps Air Station, Kaneohe Bay built the distinctive Quonset huts in 1956 and 1957, which are still in use.
Today, PTA stands as the premier military training area in the Pacific region. Units from all U.S. military services, as well as allied militaries, train at PTA, because it offers realistic training opportunities not found elsewhere. With several new construction projects underway, PTA stands ready to support military training well into the future.
---
The PTA command team and staff embody the IMCOM motto: "Sustain, Support, and Defend."